Wanting to really test what my new little appliance could do, I chose the toughest cut of meat that I had on hand to create this recipe and the Instant Pot did not disappoint! You can read my thoughts on this product in more detail in my blog on the subject.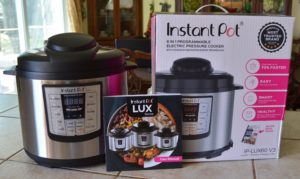 In the meantime, here is the recipe that I created for this tryout:
Start out with a package of Stew Meat; any kind will work, but mine is Venison Stew Meat. Since my stew was frozen and I wanted to thaw it out quickly, I put the meat into a bowl of cool water and began to pull the pieces apart. Stew meat tends to be a little bloody (in my opinion); so, whether it is frozen or not and no matter what kind is used, always give it a good rinse or soak it for a few minutes in order extract some of that excess blood. Then drain the meat well.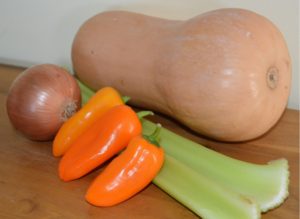 In order to keep this recipe Ketogenic, butternut squash is used instead of potatoes.
Along with the onion, sweet peppers, and celery, it makes a really great flavor profile.
My butternut squash was 3lbs.; so, I sliced off about 1/3 of the squash, then peeled and cubed it.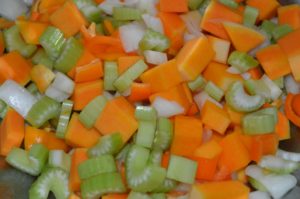 Dice up the onion, celery, and peppers. Toss all the vegetables together in a bowl.
When cooking, I like to have lots of different seasonings and spices on hand to "play" with. For this dish I simply tore open a one-ounce packet of Kikkoman Marinade Mix For Meat and then added one tablespoon of Six Pepper Blend (my hubby's favorite seasoning), three tablespoons of Ranch Seasoning, and salt & pepper to taste.
Add meat in with the vegetables, sprinkle all the seasonings over the top and toss to coat well. Then transfer everything into the Instant Pot…or save yourself from having another bowl to wash and do all of this mixing and tossing in the Instant Pot (wish I had thought of that before I created the extra work).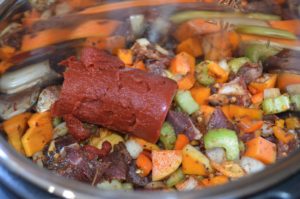 Add a six-ounce can of tomato paste (I used an organic paste with no added sugar).
Pour one can (or approximately 2 cups) of Beef Broth over the top along with the same amount of water and stir it all together in order to incorporate the tomato paste well. Add one Bay Leaf and one leg of a Star Anise (optional) in order to add a richness to the stew that is pretty impressive.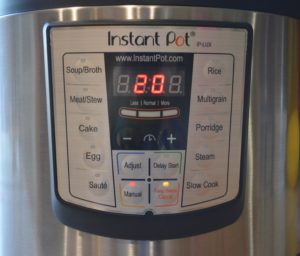 Using the Manuel or Meat/Stew setting on the Instant Pot, set it to cook for 20 minutes under pressure following manufacturer's instructions.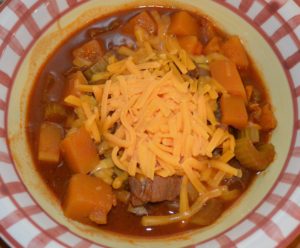 The Butternut Squash in this stew had the most amazing texture (so creamy on the inside), and the Stew Meat was super tender. This stew turned out to be so rich and flavorful that I had to record what I had done in the form of this recipe so that I can be sure to make it this way again! Garnish with cheese, sour cream, chives, or just enjoy it as is–no garnish required
_______________________________________________________________________________
Stew Venison and Vegetables
Ingredients:
1 or 2 lbs. – Venison Stew Meat (or Beef)
1 lb. – Butternut Squash, peeled and cubed
1 medium – Onion, diced
2 stalks – Celery, diced
2 small or 1 medium – Bell Pepper, diced
1-oz. packet – Kikkoman Marinade Mix For Meat
1 Tbs. – Six Pepper Blend
3 Tbs. – Ranch Seasoning
Salt & Pepper to taste
6-oz. – Tomato Paste
1 can or 2 cups – Beef Broth
2 cups – Water
1 – Bay Leaf
1 – Leg of Star Anise (optional)
Directions:
Toss stew meat, vegetables, and dry seasonings together to coat. Add tomato paste, beef broth, and water. Stir together to incorporate tomato paste. Add bay leaf and star anise. Set Instant Pot to pressure cook for 20 minutes on Manuel or Beef/Stew setting following manufacturer's instruction. Allow pot to depressurize before opening. Optional garnishes include: cheese, sour cream, chives.