The past few months of my life have been so busy, so full, so blessed!! Far more going on than I expected this time to contain for me to be a part of and to be doing. A summer that I thought would be spent gardening and canning and blogging about gardening and canning was instead spent writing and publishing a book and traveling. So now I'm going to do a little blogging about… writing a book and traveling.
First, the book: What an experience!! And an unexpected one at that. I had absolutely no idea when I met Charlene that she was going to play such a big role in my life. Immediately upon meeting her I knew she was a kindred spirit and that I liked her very much. She's a rare find in this world and I knew I wanted her to be my friend, but it never crossed my mind that within months the Lord would knit our hearts together and we would be ministry partners, co-business owners and (the icing on the cake) co-authors of my first book.
**Spoiler alert!** I say first book because I'm actually in the midst of working on a couple of other manuscripts. They aren't devotionals like this first one, they're novels. I'm back to working on them now and just as excited about the opportunity as I was when Marvin and I first discussed this season of dedicated writing for me which started with my focus being on building this blog, even though I realize that for a little while now it seems to have laid neglected.
It was in fact this blog that brought me to the attention of Charlene who had been thinking about writing a devotional for a while but felt that she was supposed to partner with someone to do it. She had been praying about it when she started reading the things that I was writing. I only knew she had been reading my blogs because she was commenting, which I love for people to do. So… COMMENT, PEOPLE!!
Anyway, one day a few months ago, while I was here at home working around the house and occupied with the blog, I clearly heard in my heart these words, "You are about to receive an offer. Say yes!" It came out of the blue and I didn't know what it meant. I was completely clueless that He was stirring the water on my behalf in Charlene's heart.
She, who had been praying about who to write with, was driving down the road two days later seeking God about this idea she couldn't get away from when He dropped my name into her mind. When she got to her destination that afternoon, she texted me and asked if I'd be interested. I knew the answer to that question because God had already given it to me and four months later our book was published.
If that statement makes it sound simple, I promise you it wasn't. Saying yes to Charlene was hard for me to do even though I knew without a doubt that He had instructed me to do so. Honestly, if He hadn't spoken so undeniably clearly to me, I wouldn't have said yes. My focus has been on building sheranna.com and this blog and working on the other manuscripts that He's given to me—did I mention that I'm super excited about them!!! So, I would have said that I didn't have time to do any other project. I would have been wrong and missed an important part of His plan. I love that He knows my heart so well.
The process of getting the devotional written was rigorous and exhausting. Many of those days I worked on the book 12 hours or more. Charlene and I texted, facetimed, prayed, cried, met, and stressed. We gave ourselves a deadline that scared us to death because it seemed unmeetable. Then, we pressed in so hard that the book was published a month and a half ahead of schedule.
Neither of us had a clue what was involved and there was way more to it than we had expected. The learning alone was worth the experience of the process. But, the greater value, the sole purpose of the project, the thing that we both wanted to do was to share pieces of our stories that would speak plainly to anyone who chooses to read and study our book/devotional and to reveal the inexpressible presence of God in our lives and His inexhaustible involvement. We wanted people to see that there is not one event or moment that He has missed. We wanted to show people that, in a world entangled with uncertainty, overwhelming doubt, fear and heartache, there is a way To Really Untie Strings Totally. There is One you can completely…. T.R.U.S.T.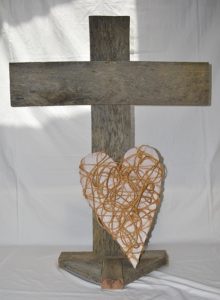 How about you, do you have any thoughts you'd like to share? If so, please leave a comment below and…
Let's Grow Together!